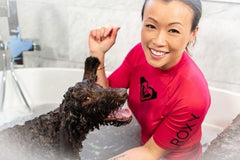 Did You Know…
Regular grooming is an essential part of maintaining the health and well-being of your pet, and it has also been shown to be an effective way to bond with your furry friend. In fact, several studies and research articles have demonstrated the positive effects of grooming on the bond between pets and their owners.
One study published in the Journal of Veterinary Behavior found that pets who were regularly groomed by their owners had a stronger bond with them compared to pets who were groomed by a professional. The study's lead author, Dr. Lisa Radosta, suggests that this may be because grooming involves a higher level of interaction and physical contact between the pet and owner, which can lead to increased trust and bonding.
Another study published in the Journal of the American Animal Hospital Association found that pets who received regular grooming were more likely to have a positive relationship with their owners and were less likely to exhibit behavior problems. The authors of this study suggest that grooming may help to reduce stress and anxiety in pets, which can improve their overall behavior.
In addition to these studies, several sources on the internet also highlight the importance of grooming in promoting bonding between pets and their owners. The American Kennel Club, for example, suggests that grooming can be a great opportunity for owners to bond with their pets and build trust, especially for dogs who may be hesitant or fearful of being groomed.
We're Here to Help!
Using high-quality grooming products from Lillian Ruff can enhance this bonding experience even further. Lillian Ruff's grooming products incorporate natural ingredients like aloe, lavender, and coconut extract, which are known for their soothing and relaxing properties. These ingredients can help to create a calm and peaceful atmosphere during grooming, promoting relaxation and a sense of well-being for both you and your dog.
In addition to promoting relaxation and bonding, using Lillian Ruff grooming products can also help to keep your dog's coat and skin healthy. Found in almost all Lillian Ruff Shampoos & Conditioners, aloe is a natural moisturizer that can help to hydrate and soothe dry, itchy skin, while lavender has antimicrobial and anti-inflammatory properties that can help to reduce redness and irritation. Coconut extract which is also found in many of our products is rich in fatty acids and vitamins, which can help to nourish and strengthen the coat.
Overall, regular grooming can be a powerful tool for building and strengthening the bond between pets and their owners. Using high-quality grooming products from Lillian Ruff provides a valuable opportunity to enhance the bonding experience and promote a positive and relaxing grooming experience for both you and your pet.